or is it me?
hello good people!
I just got a ruger american 9mm and for me it shoots pretty low. I bought it because I've shot a friend's sr9 and a neighbors sr40 very accurately on paper; I thought it had to do with the three dot sights.. I have to cover the target completely with the three dot sights lined up to get on target.
like sight picture three: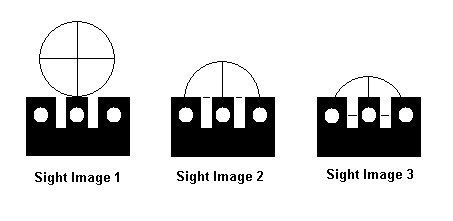 Or I bring the front sight dot up so that it is higher (by half the dot) than the rear sight dots on the novaks.
What sights can I get to bring POI up? I believe I need a smaller front sight.
only my Tokarevs shoot the same where POI is down below the lined up sights... I don't think I'm pulling or flinching.
I've shot about 200 rounds ttl after todays range visit. all 124gn blazer brass ..
I've read some say it is the shooter not the pistol so I'd like to get input on how to fix me or get new sights.
anyone have some thoughts for me? thanks!