Got a new toy today.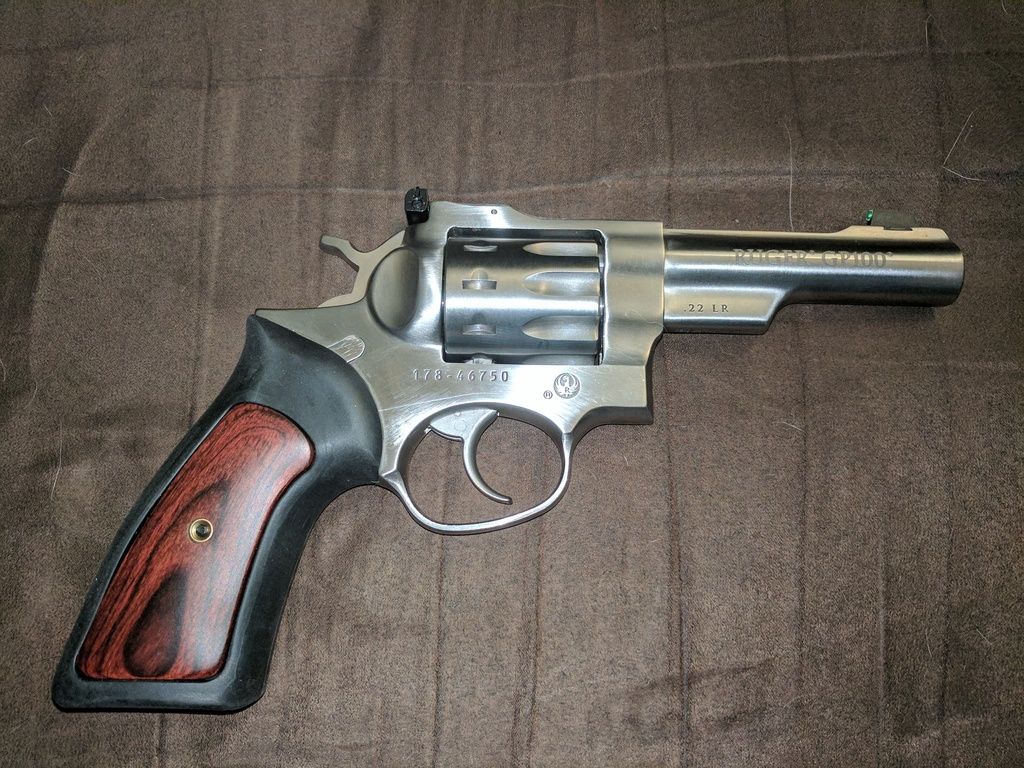 I'd give the overall fit and finish a 9 out of ten. There are a few very minor blemishes and one sharp edge on the trigger guard, but overall I'm very happy with it. Double action pull is heavy but smooth. Single action is 4-5# and crisp. Going to put a thousand rounds through it before I decide whether to take the trigger apart for polishing.
Range report
Got it all torn apart and cleaned a few days ago in prep for a trip to the range. I also ordered and had on hand an Ansac speedloader and loading block in a Pelican case ($104 for the combo)
I preloaded the loading block last night with a variety of ammo.
1. Minimag CPRN 40gr
2. Fed. Champion LRN 40gr
3. Agulia Super Extra CPRN 40Gr
4. Blazer LRN 40Gr
5.Win M-22 CPRN 40GR
6. Win bulk pack CPHP 36gr
7. Rem GB CPHP 36gr
8. Fed. auto match LRN 40gr
The first 10 rounds fired were the Mini-mag. They all fired fine, but extraction was difficult, really had to use some force on the rod. I then went down the line with the ammo listed above and the first few were also stiff to eject. The cylinders were cleaned the night before, but I ran a brass brush through them real quick just because. That helped some and each time it became easier to eject the empties. I did notice that it almost looks like there was a bulge near the head of the case, almost like a mini Glock bulge. I'm going to check with my calipers later. Is a slight bulge normal in revolvers? This is my first one, so I don't know.
After the ejection smoothed out I settled down to shoot some for accuracy. I'm a much better semi-auto shooter, but I did O.K. in double action, plenty good enough for why I bought the gun, steel plates.
I thought the balance was great, and the SA trigger was good and the DA was a bit heavy, but hopefully, it'll lighten up a hair over time. I'm going to put a couple thousand rounds through it before I mess with the springs.
I fired around 250+ round and had 1 FTF with a Winchester 36gr bulk round. I rotated it and struck it in 3 different areas and it never fired, dud round.
Good:
Balance
Trigger
Bad:
Front sight. That big green fiber optic dot isn't helpful for precision shooting.
Accuracy? This is probably a mixture of my inexperience with revolvers and the front sight. At 7yds, using a crappy sandbag, best I could do is about 7-8 out of 10 in a 2 to 1.5" group with a few fliers. Again the front sight isn't great for precision shooting and I'm inexperienced with revolvers.
On to the Ansac speed loader and loading block. I was going to get a Speedbeez until I stumbled across the Ansac. I don't own a Speedbeez or any other speedloader so I can't say what I read was true or not, but I read that it and the DS-10 didn't hold the rounds tight allowing them to move around in the loader, which effected alignment going into the cylinder and that neither of them pushed the rounds into the cylinder and some hand seating was sometimes needed. The Ansac doesn't have these potential problems. It holds the round tight and pushed them completely into the cylinder. I'm not going to say the other two loaders aren't as good, but I will say I really like the Ansac! As for the loading block, it comes in various sizes. I opted for the 130 round as that would allow me to go through 2 rounds of plates without reloading it. The only gripe I have is I wish it's holes were a hair, 1/8", deeper to help keep the rounds more aligned. But the way we do plates at my club speed for reloading isn't a factor so the extra second needed to wiggle the loader over the rounds to get them in doesn't matter. And that's all it takes to get them aligned, a slight wiggle an extra second.
Included is a few pictures of the firing pin strike and the Ansac kit for 4wheelguns.com.