I picked up my new GP100 last week. I had ordered a satin stainless KGP141, but this is what was shipped. The box says it is a "Hawkeye Matte" HKGP141. Apparently is it a Lipsey special item.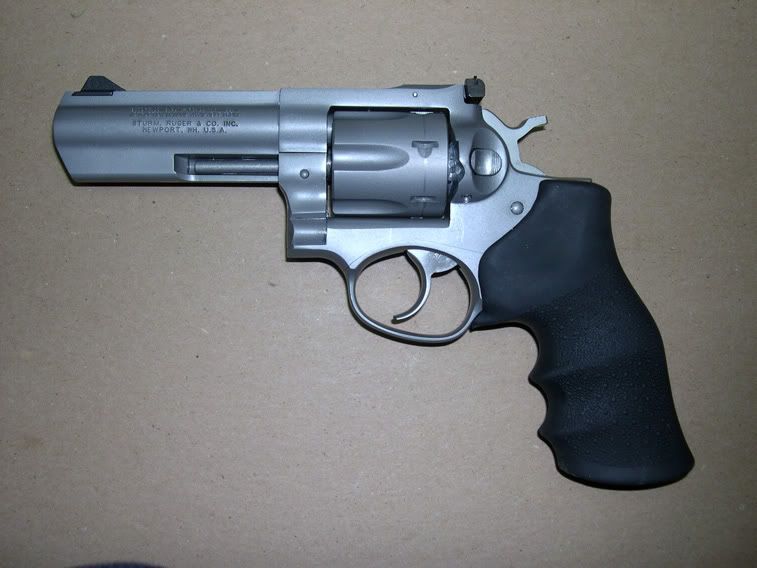 I have never seen another GP100 with this finish. It looks something like the "Target Grey" I saw on one of Ruger's bigger revolvers awhile back. I rationalized that few folks buy Ruger revolvers for their exterior finish, and well, the matte is very even over the entire gun. After checking it out, I decided to buy it.
The revolver was assembled very nicely. There are no sharp edges on the trigger, trigger guard, or anywhere else. The B/C gap is a uniform 0.0025 in. for each cylinder hole, and the lockup is very tight with negligible side play. I could barely detect any cylinder end shake. Out of the box the DA pull was 11 lb., and the SA pull was 4 lb. Overall, the action was fairly smooth, with minimal grittiness. As can be seen, the cylinder latch drags a bit, but there is no gouging.
I installed a "10 lb" Wolff hammer spring and an "8 lb" trigger spring, the combination that I like in my SP101. The GP100 DA pull with this combo was 8.5 lb., while the SA pull was about 2.5 lb. The action was smooth, but the hammer felt a bit limp, for lack of a better word. So, I installed the "12 lb" hammer spring. The result is a 10 lb. DA pull and a 3 lb. SA pull. I left the 12/8 spring combo in. During the spring replacement process I smoothed the edges of the hammer strut, the transfer bar, and the pawl. The surfaces on the rest of the parts looked good, including the hammer spring cylinder. I am pretty pleased with this amateur's "action job." It is not as slick as any of my Smiths, but maybe the feel is just different.
The first trip to the range was uneventful. The gun functions well, with no cylinder binding or trigger reset failures after 50 Special-level loads and 50 full power magnums. If only I had a bigger stash of primers … Good accuracy, as expected. Naturally, the action was a bit smoother after the range session. After handling it a bit, I am wondering about the durability of the finish. It looks like the heads of the nickel cases I was using may have caused some minor scratches on the side of the frame when they were ejected. Other than that, no complaints. It is a nice shooter.