Bought new last month, and it looked like:
Now it looks like:

Looks pretty stock, until you see: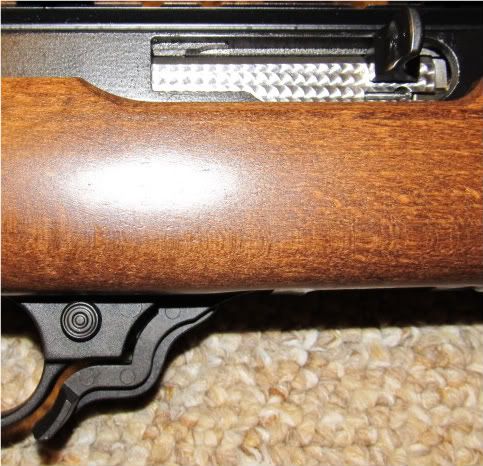 I'm not one to build an "ultimate" 10/22. I like the wood stock. I like the barrel band. I love the way a 10/22 carbine looks. I just want to ameliorate the stock deficiencies.
Power Custom Hammer & Sear
Volquartsen Exact Edge Extractor
PWS T3 10/22 Magazine Release Lever
Urethane Bolt Buffer
Most of that stuff I got off Brownell's or E-Bay.
The bolt has been worked:
Adjusted head space to .043 +/-.0005 and adjusted the firing pin to protrude .030 +/- .003
Enlarged the radius where the hammer contacts during cycling and polished that area to a high shine.
Cross pinned the firing pin with a 3/32 hardened dowel pin, and added a chamfer to the top of the charging handle slot,which makes finding the slot during reassembly much easier.
Polished the ejector plunger.
Jeweled the ejection port side.
The work was done by
Pete Lexy (click for site)
.
I added a BSA 3-9X32 scope that came with rings. It's not expensive. It's decent for what I need, and my current skill level.
10/22 @ 76ft, CCI Mini-Mag HP, sandbag rest, scope, no mods, 20 rounds:
Same distance & ammo, scope, + mods, 10 rounds: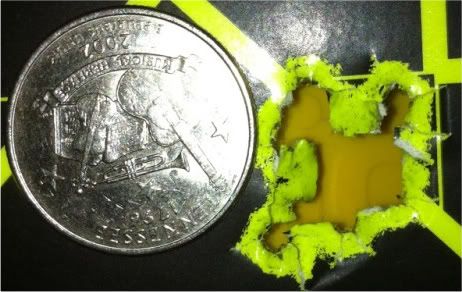 My 10/22's potential now exceeds my current skill level. Before I do anything else to it, I have to improve my shooting skills.
Now if you really want to see some really crazy $$$ builds, head over to rimfirecentral.com . There are some really awesome builds there. Some 10/22 builds found there don't have any Ruger factory parts. Entire 10/22's built from aftermarket parts. Cool stuff.