Ah, the 10-22. One of my favorite toys.
I've experimented with lots of mods, heavy barrels, after market trggers, etc., etc., etc.....
However, you may get a kick out of my latest 10-22 bashing.... Arrow shooting!
I found an advertisement for a new barrel kit that uses industrial blanks to propell amuminum arrows at incredible speeds.
So, I broke down and bought one.
The kit consists of a thin barrel that fits inside of the hollow aluminum arrow.
There also is a Bull Barrel size outer barrel that screws onto the base of the arrow barrel to protect everything.
An arrow is slipped down over the inner barrel, a blank is single loaded into the chamber and you are ready to shoot.
My 10-22 Arrow Shooter ready for testing.
Here we have the outer barrel removed showing the inner barrel and an arrow.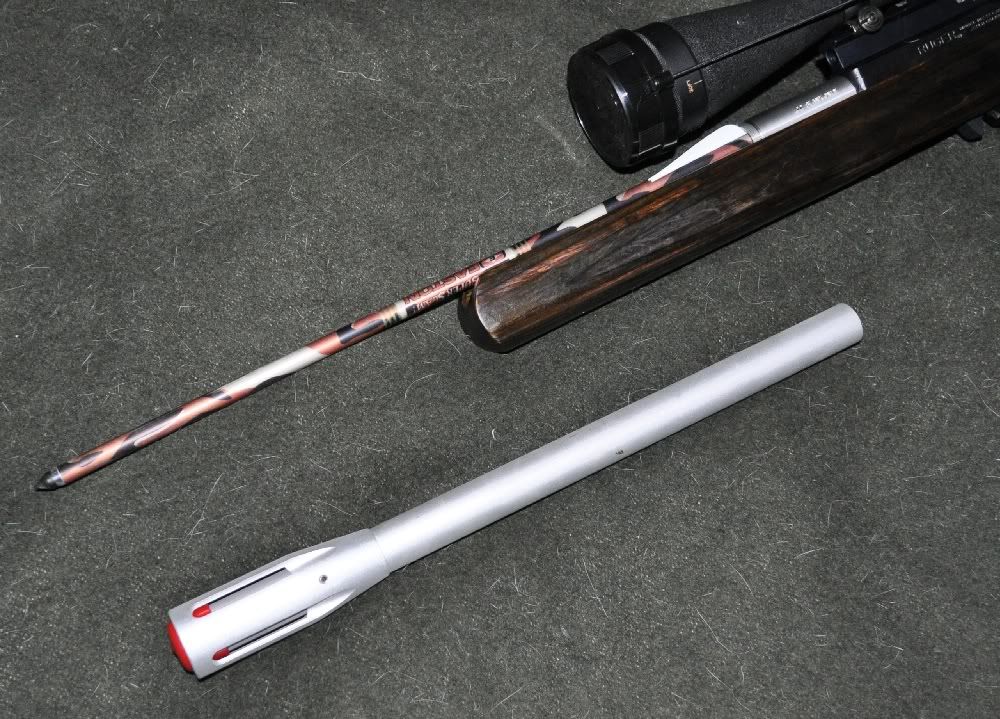 This view shows the arrow mounted on the inner barrel.
Here is a view of the rear end of the arrow showing the hollow shaft.
This is an end view showing the arrow loaded and the outer barrel installed.
(The bell shaped device is to protect Broadheads from damage while carrying in the field)
Here is an arrow sticking almost completely through the target.
Incredible velocity and accuracy
.
I'm very impressed with this kit. More powerful than my crossbow, and more accurate.
Of course, it has no real practical use other than a unique way to shoot targets.
But, it isn't intended to stay installed.
The bull target barrel will soon be reinstalled and I'll go back to trying to shoot dime sized groups at 50 yards again.
Thought you may be amused by this outrageous 10-22 mod.
Take Care,