HI!
Time for a little project. Kinda different than what most of us do here to preserve and use these old Mossy's.
Back story:
I have a Ruger Gunsite Scout, it's definitely my favorite rifle. Small. Super handy. Packs a decent punch being a .308, has great iron sights, a forward mounted long eye relief scope makes target acquisition super fast, pretty light weight (doesnt meet Col. Coopers weight requirement though) and uses detachable box mags. It's a pretty impressive "do all" type rifle.
If you're not familiar with the scout rifle concept from Col. Jeff Cooper, here's some light reading:
https://en.wikipedia.org/wiki/Scout_rifle
Here's my Ruger GSR in 'full dress'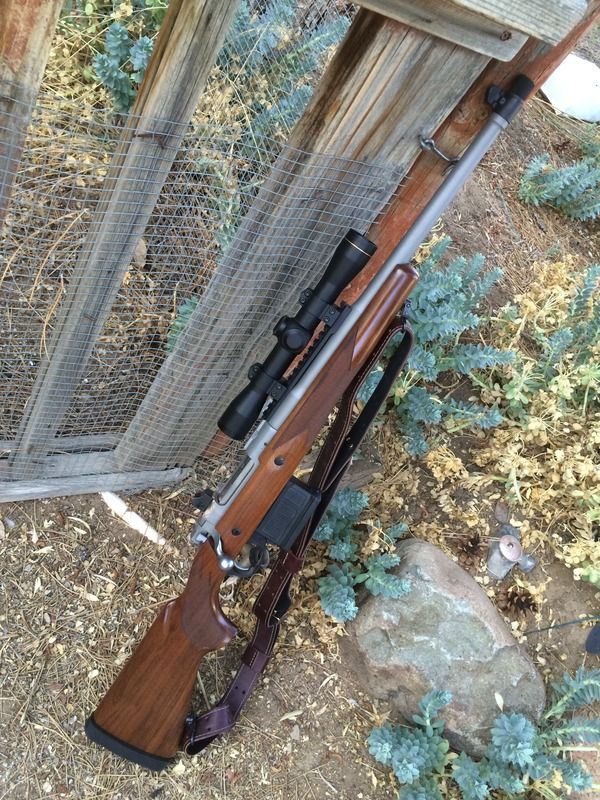 We all like reasons to buy new guns, but in my opinion having a sub-caliber variation of a primary firearm is a great way to practice all your shooting skills without breaking the bank on buying full size rifle ammo. the only issue here is that putting together a similar rifle in .22 caliber (i had plans to use a CZ 425 scout youth model) would have cost somewhere in the range of $400-$500 all said and done. That could buy me ALOT of .308 to shoot. It wasnt until recently that I realized I had a legitimate candidate for this sitting right in my safe.
My requirements were not as strict as the actual definition of the scout rifle, but I needed the following:
-Bolt Action.
-.22 cal
-box magazine fed.
-foreward mounted optic option
-Reciever aperture sight
Sound like some rifles we know?
I've had this poor old Mossberg 42C sitting in my safe for years. It was gifted to me by a buddy because i did him a solid favor one day. He didnt have the time for repairing a basket case rifle.
Its actually the gun that introduced me to the wonderful world of vintage Mossy's (of which I now own 4). And it DOES shoot well, despite having some pitting at the bore, a super heavy trigger, a sometimes picky ejector, no bluing left on the barrel, a nicked crown, missing butt plate, cracked stock, etc etc. It'll put em in a quarter at 50 yards, and my buddy actually out shot me and my 146BA with it at a recent rimfire match (he had optics, I didnt....gotta have some excuse right? :AR15firin).
While this gun has basically a $0 value, it's valuable to me because it was a gift and a number of folks on rimfire central gifted me minor parts like screws and whatnot, to keep it alive. The only way it will ever leave my hands, is as a gift to somebody else.
So, until today, this is how it sat and was occasionally used: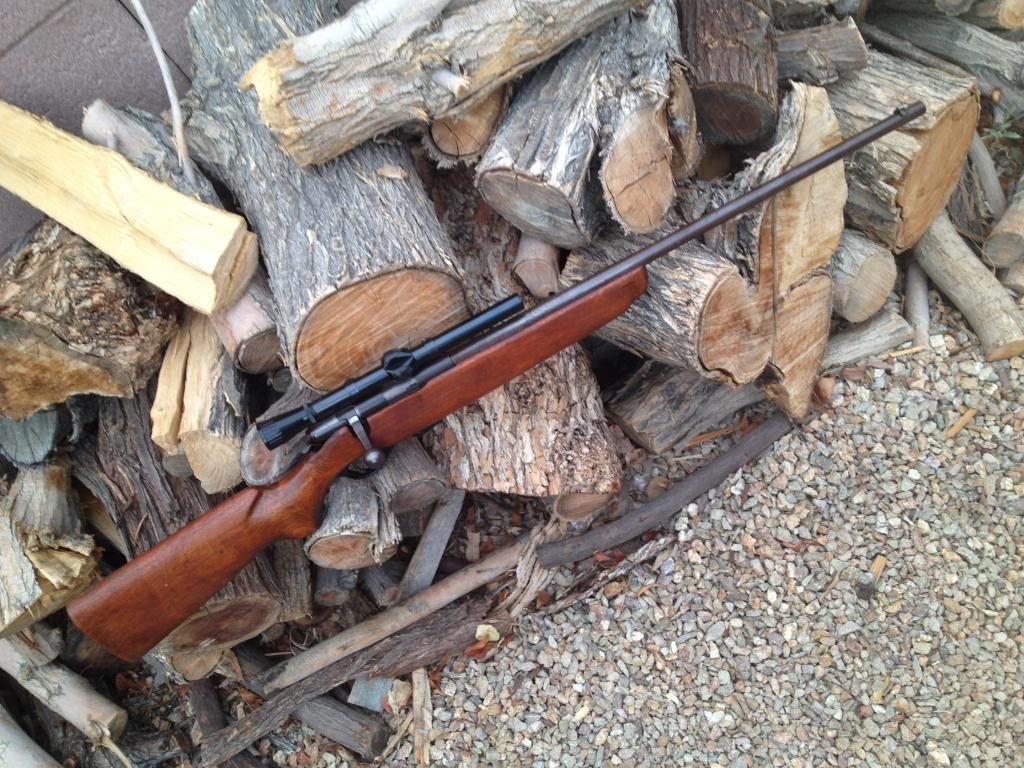 In the scout rifle world we refer to these sub caliber examples as 'Cub Scouts' and as mentioned I had intended to build one out of a CZ 452 Scout. This would have set me back quite a bit of money, so it wasnt worth it because shooting $500 worth of .308 in my actual scout would have been more useful training. The only progress i made, which was actually the saving grace here, was to purchase a forward optic mount from a Taurus M62 .22 pump action because i knew this could be made to work on the 452 scout. The mount was $20 shipped to my door, on gun broker.
I was milling around today and the thought occurred to me that the barrel profile on that mount might work with the 42C, and all i would have to do is get a dovetail cut in the barrel to mount it. I'd have the barrel shortened at the same time to get it closer to scout size. Well, moments later it occurred to me that I dont NEED a dovetail, and a perfectly fine threaded hole already exists on the top of my 42C.
I removed the scope that was on it and rummaged through my parts bin, and mocked this up.
BOOM. Instant cub scout.
Ran back to my closet and started piecing things together. I have a ugly green Hi-Lux 2-7x LER optic that I scored for $50 a while back that was brand new, just painted green. Its overkill for the cub-scout, but its exactly the optic that i need. Should work perfect, and i already have it, and its a good quality optic.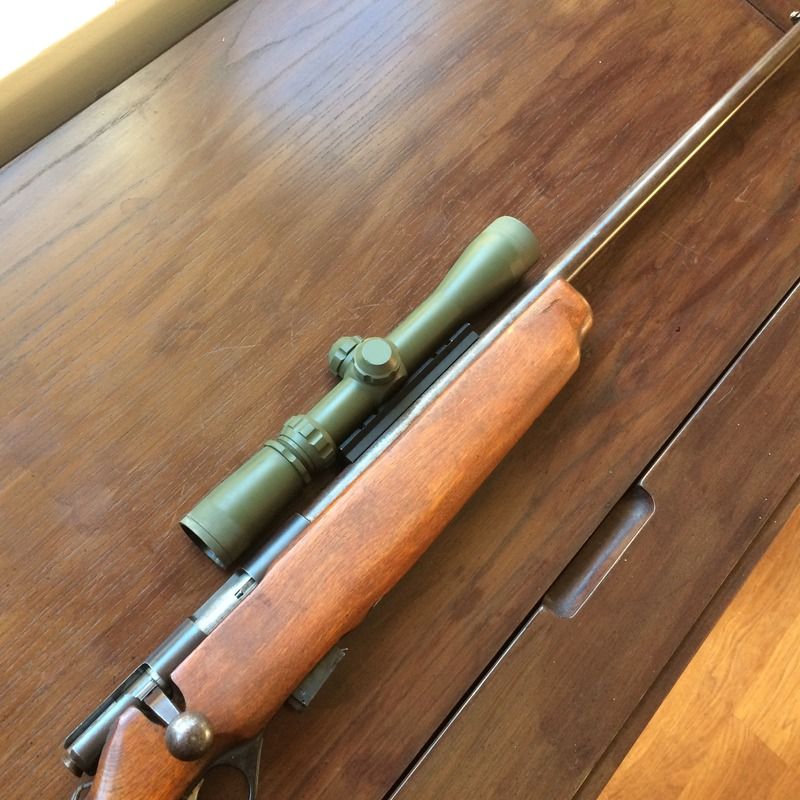 So, todays task was to get a longer screw for the mount, and some rings. $9.75 later between walmart and home depot, I had what I needed. Here's the rough draft: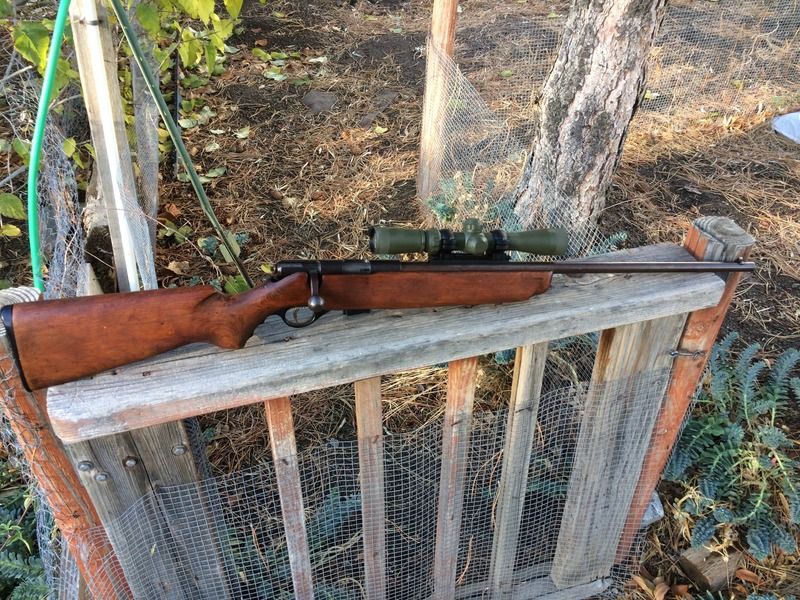 Its ugly as all get out, blued receiver, rusted barrel, black rings, green scope. Beat up stock with a crack on the other side. Also, the barrel is too long.
My nest steps are as such:
1. shoot it. make sure it works right with the optic.
2. refinish....dont get mad at me, but its a nearly valueless rifle and its butt ugly. I will probably enamel the metal on the rifle, either in a satin black or charcoal gray like parkerizing and repaint the scope, POTENTIALLY OD green to match the scope, or potentially a light gray to appear like a bead blasted stainless such as is shown on my ruger. So, sorry, i know "refinishing" devalues, but if this is a field rifle, i'd rather not have it be completely exposed raw steel...and plus...like i said, its uglier than sin.
3. Sling and swivels. Any field rifle needs a shooting sling. I already had swivels in bound from numrich, so just need to add a sling.
4. barrel lenght........will most likely stay the same. I dont have it in me to hack saw ans recrown at home, nor do I want to spend the money on a professional cut job. So the rifle will remain "unhacked" in order to make up for painting it.
6. stock repair. A few tiny screws and a dremel should make short work of the existing crack. I am going to keep the raw wood finish.
7. maybe. MAYBE sourcing a rear aperture sight, that would allow use of the irons if the scope was removed.
Anyway....i'll update as this progresses, but there you have it. the beginning of a very non-traditional mossberg build and revitalization!!!!
I'm sorry if I offend the purists, but this mossy has a somewhat special place in my heart, and I think it's the right choise to get it into a condition where I can use and enjoy it to its fullest!
Stay tuned for more...but also feel free to berate me for my unorthodox intentions as well