Quote:
Originally Posted by
ptblank
1)I can see that you think like I do and you care to keep your guns in mint condition. You have several very nice Smith revolvers too! And of course i'll be interested to see any pictures you might take of these Smith revolvers.

2)Well I hope that your 6 1/2" blued M29 will still prove to be in nice shape? However any guns I have stored in boxes including wood I always insert a sheet of VCI paper with the gun placed inside of this folded VCI paper. I usually order 20-30 sheets of S&W VCI paper from S&W. In fact I just ordered 30 sheets which only cost me a little over $16 including the shipping! For the guns that I'm unable to store in boxes I place 6them in Bore Stores because these do not hold moisture and have proven to keep these guns protected after sevral years!

3)I originally had three M66(no dash)revolvers with two of these having the all stainless sights and one with the black sights because shortly after introducing the all stainless sight models the shooters tarted complaining that they couldn't see the all stainless sights very well during shooting in bright sunlight so Smith stated producing these M66(no dash with the black sights. But unfortunately a collector had talked me out of one of my M66(no dash)revolvers with the all stainless sights! But I still have three M67(No dash) models with the all stainless sights still left in my collection. I really like the M67 with it's tapered barrel!
I took a little time to snap a few pictures of some of my Smiths. I'll be first to admit I'm not much of a photographer.
The top left is my Model 67 my first handgun. Note the M67 and the 4" M66 both have the stainless steel sights. I just noticed they didn't come out real good but they both have the stainless sights the early stainless models had.
Top right is a later model M66 2 ½" .
Bottom left is my 4" M66 and the bottom right is a M60. 3 of 4 are from the early 1970's and the 66 2 ½" was I believe in the later 70's. I got the 2 ½" 66 from an old friend that passed away in the very early 80's.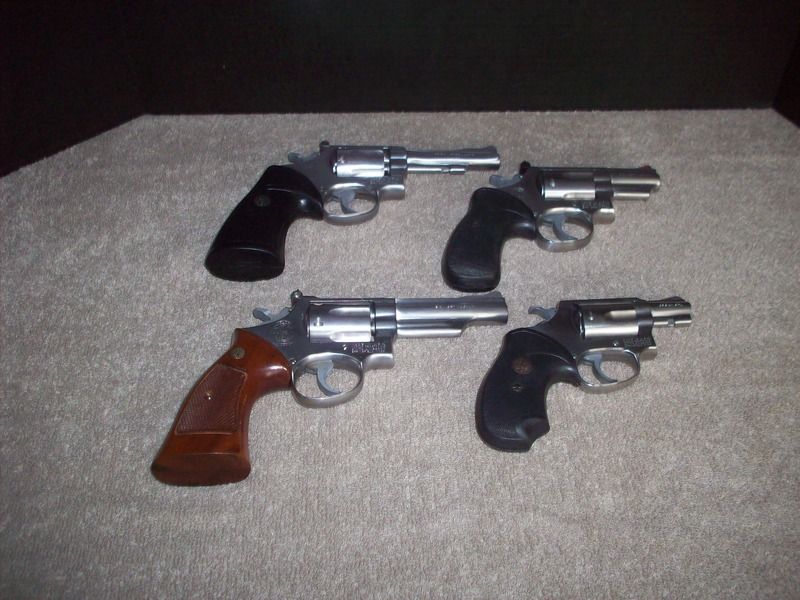 I forgot all the Pachmayr grips I put on these old guns. I have the factory original grips packed away.
This is a M41 22LR S&W target gun. It's like new and I can't begin to tell you the thousands of rounds put through this gun. Back in the day I'd go to the range 3 or 4 nights a week. Shown is the extra 5 ½" heavy barrel and I want to say the barrel on the gun is 7 3/8"bbl with the muzzle break. I bought this M41 in 1973 possibly 74 for 149.50 and they are almost 1400.00 today and probably not the same quality as the old ones were. This particular one has an "A" S/N.
The heavy barrel I picked up a few years later. It wears a pair of Herretts custom made grips. I believe they were called the Shooting Stars.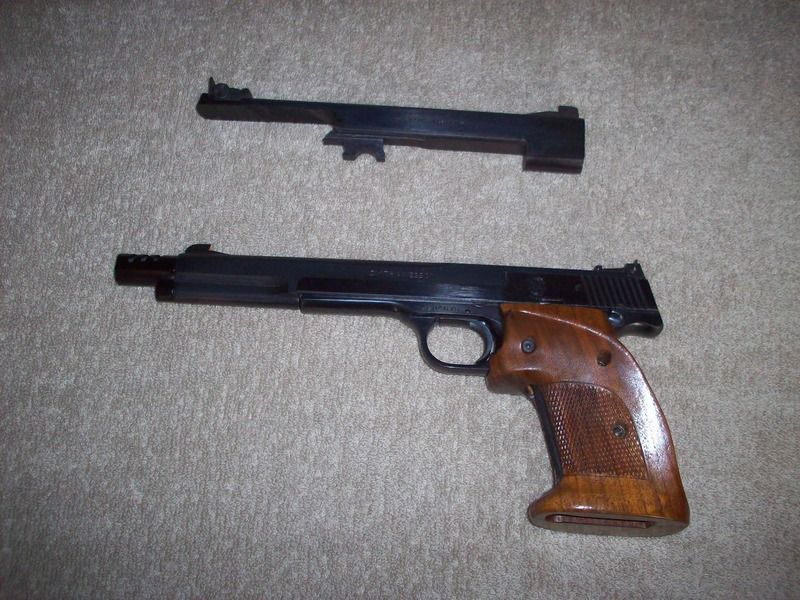 Here's my M63. From the mid 1970's. It was showing honest age so I glass bead blasted it last year. The extra cylinder shown with it is a 22 mag.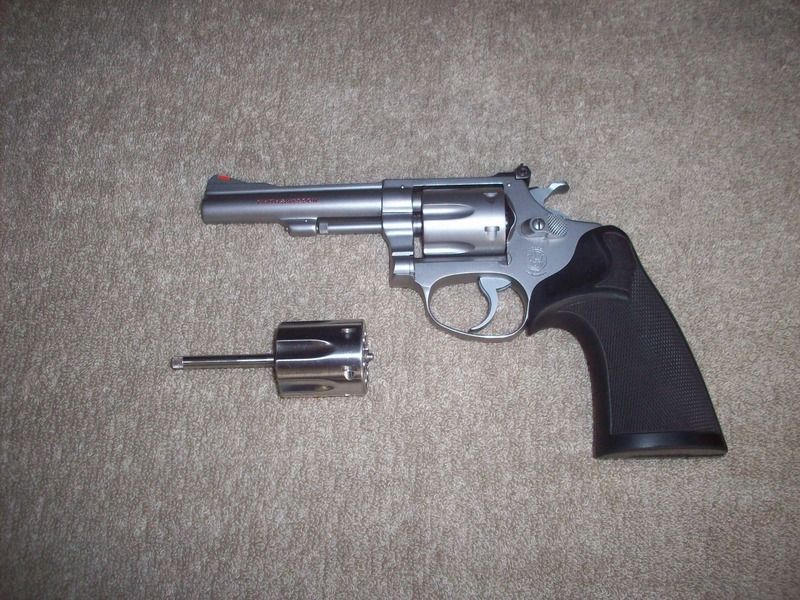 That's it for now.
Ptblank after reading your post I realized I forgot the M29. I went back down and got a couple for you.
Here it is …… This gun is NIB unfired from the mid 1970's era M29 6 ½" blue.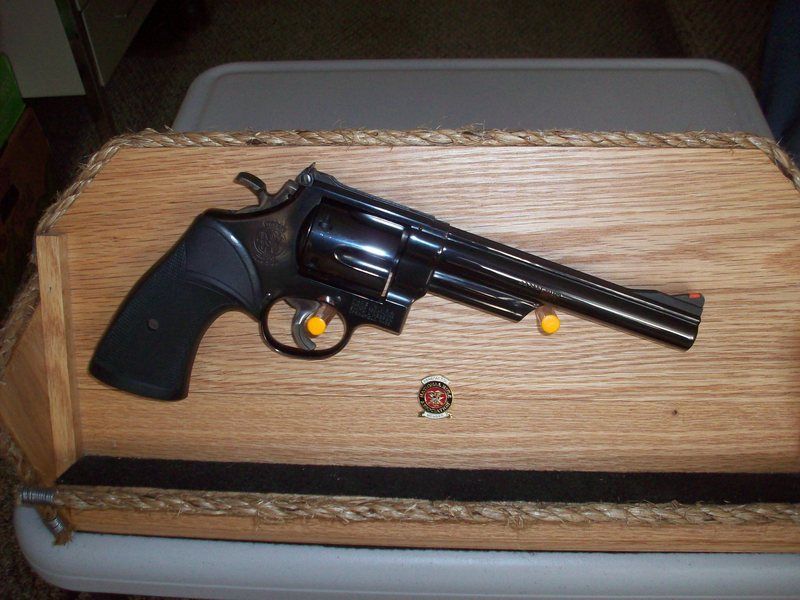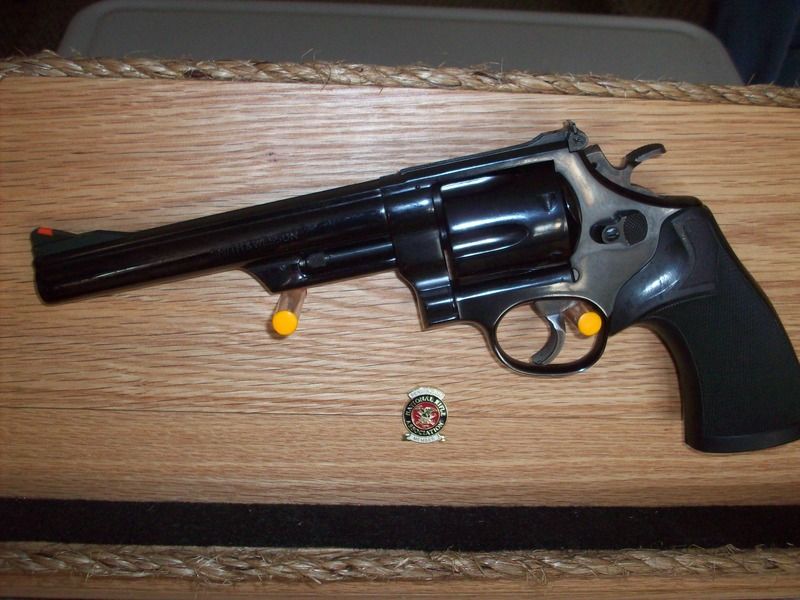 That is a good ideal using that VCI paper. I wipe all mine down with a sheep skin wipe with RIG then they are sealed in plastic bags then stored in a safe with a Golden Rod inside a climate controlled room. I've been doing it that way for decades.
I have a few more when I feel like digging them out I will. Nothing special that M-17 with the extra 22 mag cylinder ,a Model 25 45ACP unfired NIB.
I also notice the M41 looks blemished. It isn't it's from the flash on the weenie camera.
You mention the Dash numbers. To be honest I never think about the dash numbers. I guess I should add the dash numbers on my records. I write them as the Model number S/N, etc and never think of the dash number.
I should have cleaned the RIG off that one side better. It's spotless. That flash sure doesn't help taking pictures of a shinny object.